Zagreb Christmas Market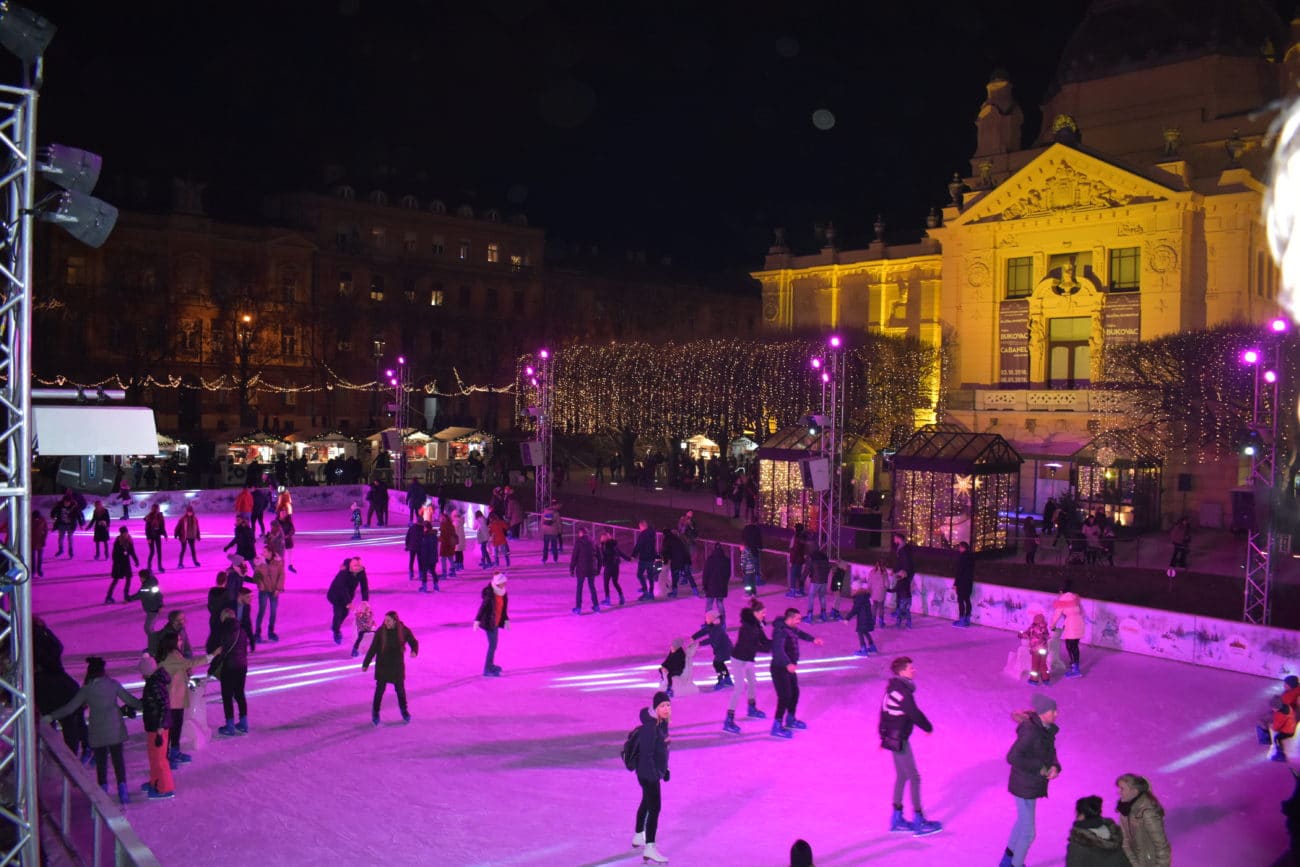 I really like Zagreb, a lot. Although Zagreb is not spectacular or anything, this makes Zagreb a kind of special and charming place. Here you will not find the largest building in the world, the largest museum, nor the biggest party, and to be honest there is nothing to find big or monumental there. But here you can find Zagreb Christmas Market – one of the best in recent years in Europe.
But Zagreb has a lot of charm. Yet this is the place where Balkan and Central Europe meet, as written by Miroslav Krleža, (one of the most famous Croatian writers). Zagreb is a special blend of Balkan non-refinement and courage with Central European endowment – smoothness.
To be honest, I was not surprised by the fact that Zagreb is one of the top tourist sites currently in Europe. For example – the number of tourists visiting Zagreb in 2011 was 650,000, while in 2018 this number had grown to 1.4 million, which is almost twice as much as the city's population.
In Zagreb, you will find some of the coolest things I've ever seen, such as the so-called Zagreb public, Museum of Broken Relationships, and a unique and hard to describe Zagreb Christmas Market.
According to the `European Best Destinations website', where visitors can choose top destinations for themselves, do you know which city had the best Christmas Market in 2019? The answer is Talin, and therefore – Zagreb could not compete with this because it was voted the best Christmas Market for the past 3 years in Europe. Being the best Christmas market three years in a row, with competition of such cities as Vienna, Budapest, Strasbourg, Prague, Manchester, etc., certainly was not without reason.
Therefore, we decided to visit the Zagreb Christmas Market, we explored what makes it so special and enjoyed the spell of colours, smells, music and flavours. In other words, it is a festival for all senses, including touch, as there is a huge ice rink within the market. If one word could describe the Christmas Market, it would be – magical. This is not an exaggeration – the Zagreb Christmas Market indeed looks like fairy-tale.
The Christmas Market is conceived in the way that as many as possible of Zagreb's landmarks are incorporated into the event itself. And for that reason, the market was located at 15 areas in the wider centre of the city, and this year several other locations were part of the event such as Maksimir Park where you can find Zagreb Zoo, Vila Prekrižje, etc.
What is important to mention first is – Zagreb Christmas Market is an exceptionally big event. If you really want to experience it to the full extent we suggest you take at least two or even three days, and you will not be sorry if you stay even longer as you can visit and see much more in Zagreb. In fact, visiting Zagreb and Christmas Market can be a great city break away.
We recommend starting the Christmas Market Tour from King Tomislav Square area opposite the Zagreb main train station. There is a large outdoor ice rink, complete with a fancy light show. If you want to skate you can rent skates quite cheaply, and if you are not a fan of skating you can pop-up to the terrace and enjoy a great view and enjoy the atmosphere as it is always a busy skating rink. Of course, there are the irresistible stalls with drinks such as mulled wine, crafted beers, brandies, teas and the like. – Just sit and enjoy the view with a glass of mulled wine. I really found this to be a great experience.
The ice rink ends at the Art Pavilion and right across the road is another area to enjoy –  Josip Juraj Strossmayer Square, where` fooling around' takes place. This is a gastronomic and musically spectacular, and the food stalls in the square offer an incredible choice of dishes.
Fooling around has fantastic music, more fantastic gastronomic offers and a fantastic atmosphere – all in one place.
According to the choice of the Zagreb Christmas Market visitors `fooling around' was voted the best advents event and CNN considered it interesting enough to make a story about it.
For this year's fooling around' the scale of the festivities has been raised even more. More than 80 musicians from Croatia and the rest of the world performed this year (which is why two music stages were set up and one was closed and heated, Just in case!!! )
The peak of musical events was the world sensational `The Queen Real Tribute Band' and in addition to DJs and music bands there were performances of children's choirs on Sunday, and on a Monday, you could listen to a repertoire of classical music performed by Zagreb Music Academy.
The gastronomic offer continues to be spectacular. Forty of the best restaurants and bars, offered their specialities. Here you could try traditional and super unusual tastes from various parts of the world. – Traditional Slavonian, Lika and Istrian specialities, Dalmatian pizza, Austrian, Spanish, Scandinavian, Swiss dishes, Asian and South American delicacies and Grills and Czech candies and desserts. There were colourful cocktails, brandies from all over the world, as well as mulled and non-mulled wines, punches, aromatic teas and creative spirits. We must not forget the fantastic offer of the craft beer and here you could try a specially made beer brewed for this occasion.
Organisers also thought of everything and anything for all the fans of `fooling around'. In the 'geek shop' you could find Dragons, one could find a selection of gifts and memorabilia from movies, television series and video games like Harry Potter, Lord of the Rings, Game of Thrones, Star Wars etc. In the end, it would be a pity not to visit the `fooling around' Fan Shop and buy some of the cool festive gifts.
There were things for the youngest, such as Factory of Santa Claus with its daily performances. Organisers even thought of four-legged pets, so CAPA Pet Bistro.
To get to the next area, the Zrinjevac Park, you are to just cross the road again. In fact, Zrinjevac is a park with 220 Platanus trees and one of the most recognizable Zagreb landmarks. The trees are very imaginatively decorated and illuminated, which especially in the dark gives the park a fabulous look. In the middle of the park is a music pavilion where concerts are held all the time, which was a great contribution to an already great atmosphere.
Of course, there were more inviting stalls where you could try mulled wine or other spirits, eat sausages, šnenokle or some other delicacy, but the cuisine was not as diverse here as Zrinjavac Christmas Market was conceived as a less intense spot then Strossmayer Square.
The next area, some 100 meters away is Jelačić Square, or the main Zagreb square. On one side of the square was a huge stage designed for bigger concerts. When we visited there was a children's choir in concert which gave a special tone to the square. On the other side of the square was The Winter Magic Forest installation – (further explain)
To the right of Jelačić Square is European Square, with its own gastronomic and musical offer. Naturally, there was a music stage there as well. This was the place for the more urban crew, as the music offering was oriented towards a more modern music for people with finer musical taste.
Great music, incredible food and a couple of mulled wines and spirits, kept us there until late night and here we ended the first day of the tour.
Second day we started our tour at the Zagreb Cathedral. The Cathedral is positioned above the main square and every day there it was possible to see the Live Nativity Scene. To the delight of the younger generation, but older as well, the actors a few times a day staged the birth of Christ. Undoubtedly, that was yet another impressive and fairy tale addition to the already impressive market.
After that we walked back, down to the main square and headed to the next destination – Tkalčićeva Street. This street with colourful houses, together with Jelačić's Square and Bogović's Street, is the soul of urban life in Zagreb. A 100 years ago, until World War II, while prostitution in Zagreb was legal, Tkalčićeva was a "red light district", and every other house served as a brothel. Today, filled with restaurants, coffee bars and good vibes it is a popular place for the citizens of Zagreb and tourists and therefore is always busy and full of people. The Christmas Market here was thematically focused on showing old Zagreb, and one could see artisans' workshops and similar exhibitions and listen concerts on the balconies, with old Zagreb songs on the repertoire.
Right next to Tkalće, in the neighbouring Radićeva street is the Grič tunnel leading to the Upper Town. This tunnel is an excellent example of how imagination can be unlimited. When you go through the tunnel you feel like you are in an endless theatre scene. You have a good feeling because it was the theme of The Magical World of Winter Fairy-tale. It should be noted that this is another topic in the tunnel, since the first one, since the opening of the Zagreb Christmas Market until December 11th – was the Museum of Reality in collaboration with UNICEF. Museum of reality provides an opportunity for the virtual experience of a different perspective than the one in Zagreb, perspective that makes you think, as an example refugee camp, earthquake experience and the like.
When you go through the tunnel you will find yourself in the Upper Town and there begins a new area – Advent at Strossmayer Promenade. This is a place which offers a truly enchanting view on Zagreb.
This place is best to describe as Christmas Market inside a Christmas Market. It is impossible to count all the stalls with their offers, from gastronomic delicacies specific to Zagreb and all over Croatia, such as sarma, various goulash, mullet and maneštra, over chicken and sausage to delicacies of international cuisine. We strongly suggest trying the original Croatian delicacies, like kulen, ham, sorghum, especially Pag cheese, produced in a traditional way in Croatian village farms.
The Drink selection is a special place. Here you can find everything, and I mean really everything. The most common drink you can see but also smell is mulled wine. That scent, wine, cinnamon and oranges has some special appeal.  At least for me! There were many stands offering just wine, and Croatian wines are really good. Over the past decade, Croatian ecology has grown to the very top of the world's wine offering. I personally recommend black Dalmatian wines, Postup and Plavac, but whichever wine you try, you will certainly not regret it.
The next one is rakija – the homemade brandy that is still produced in the traditional way. Though it is most commonly made of plum, the imagination of the Croatians in making rakija is really amazing, so you can find rakija of pears (so-called Viljamovka – strongly recommended), grapes, strawberries, apricots and figs. In other words, all the fruit fermented can be turned into rakija. This does not end the Croatian's passion for rakija. They make rakija with additions of nuts, various fragrant Mediterranean herbs and even honey. For lovers of spirits, this will definitely be a challenge. The only problem you will have is – to decide what to taste and when to say enough.
Advent at Klovicevi Dvori is next area. Klovićevi Dvori is an art gallery, and in front of the gallery is Gradec plateau, which is considered the most beautiful open-air stage in the city. In this area, there were also many concerts, mainly from well-known Croatian bands. Here is situated the super famous "The Most Beautiful Advent Photo". It's a fairy-tale scene designed for taking a photo, with an idyllic view of Zagreb Cathedral. When you see how this is done, it is no wonder it has been so popular on social networks in the previous years, and this year, two new scenes have been added.
The greatest attraction this year certainly was the experience of Advent through an alternate reality. With the help of mobile applications, visitors had the opportunity to have an unforgettable experience – to see the landing of Santa Claus, accompanied by reindeers. If you were on the plateau at that moment, you could take a picture or record a video with Santa Claus.
Within the galleries are organized exhibitions, performances and Christmas films screening in Advent cinema.
Lower from Klovićevi Dvori, there is another stage called Caffe de Matoš, named after one of the most famous Croatian poets Anton Gustav Matoš, whose sculpture is there. This destination is conceived as a romantic place where one can experience the charm of Zagreb since one hundred years ago, from the Matoš's era. In the cafe de Matoš you could sit and relax, with performances of street bands and entertainers, and all this was spiced with a beautiful view of Zagreb.
After that, you descend via the stairs back to the main square, where there are two more destinations – Advent in Marić's Passage and Advent in the Passage of Baković Sisters.
These stages are not so intense, but they are definitely worth seeing them. Marić's passage is a passage that connects two important streets in Zagreb, Gajeva and Prague street and is decorated with white branches and led lights, it is also a great place for a romantic walk or taking photos.
Movie Magic in the Passage of Baković Sisters, that is the title of the installation, is decorated like a film set on an old movie, and it really gives a sense of time travel. At the nearby Cinema Europa, the Christmas themed movies are on the repertoire every day, and we found it appropriate to end the day watching The Christmas Miracle movie.
In this way, we have actually finished the full circle of the wider Zagreb centre, which was actually the intention of the organiser, to show Zagreb in the advent of attire and mood.
Also, Advent was organized and on several farther away locations such as Maksimir and Zagreb Zoo, as well as Villa Prekrižje, however this year we did not visit them, but we will do it next year. We are definitely coming back to the Zagreb Christmas Market!