Polish Food – Guide for Beginners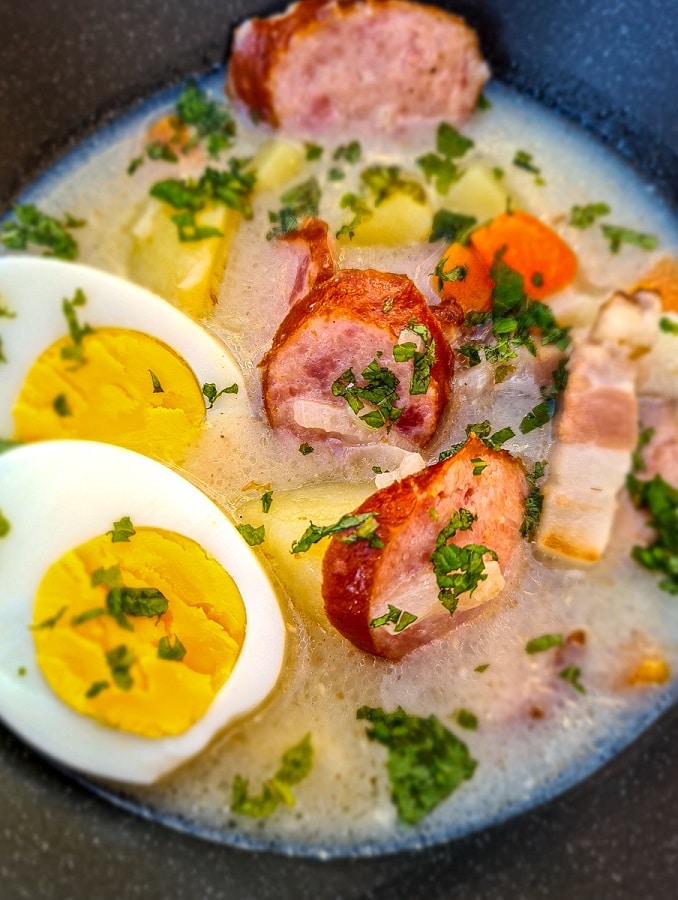 With a history of treasured ancestral ingredients, Polish cuisine has recently become a favorite among many European delicacies. Several top restaurants around the world are developing a preference over other cuisines.  Polish food is a darling to many, outdoing the longstanding favorites like Italian and French due to its wide range of startling tastes.
The sharp mustard plant pungency, enlivening fermentation, and profuse savoriness are just a few of the pleasant tastes to encounter when exploring traditional polish foods. Even though Poland is also a victim of fast food encroachment, it's hard to deny that Polish recipes still hold on to the deep-rooted ways of making foods extra delicious.
It's not very difficult to come across fresh and tasty Polish cuisine on a visit. Anyone yet to visit Poland, there are plenty of well-articulated cookbooks that share Polish recipe secrets to the outside world.
What is Polish Food?
Polish food is any delicacy prepared or cooked using recipes originating from or highly popular in Poland. Due to its rich history and associations with other neighboring countries, Polish foods have evolved to be very eclectic.
Today, it's not so surprising to find that Poles are fond of including meat in virtually any of their delicacies. Game meat, chicken, and pork are some of the most favorites. Additionally, no other cuisine beats the Polish in terms of veggies. Most polish foods will also contain a variety of vegetables, mushrooms, spices, and herbs.
Poland has many connections with most bordering nations, including Germany, Ukraine, Hungary, and Russia. For this reason, Polish food has lots of influences from these nations. It's not so hard for the staunch gourmets to discover elements of Russian, Turkish, and even Lithuanian cuisines.
The traditional Polish food is delicious and rich, with many reminders of how the Poles lived their lives back in history. The foods have a characteristic taste that non-Poles will find delicious and mouth-watering.
What is Typical Polish Food?
As medieval chronicles highlight, a typical Polish food is characteristically spicy, with lots of groats, cream, eggs, and meat. Traditional Polish cuisine applied extraordinary amounts of seasoning as compared to other European cuisines. Juniper, nutmeg, and pepper were the mainly preferred food seasonings.
Due to the trade relations with other Orient countries, the Poles acquired most of the spices at lower prices and made them part of their dishes. This practice has grown over the years to be a tradition that's followed when preparing Polish dishes.
Today, typical ingredients that can never miss in any Polish cuisine include beetroot, sauerkraut, cucumbers, kohlrabi, sour cream, smoked sausages.  The meals owe their great tastes to the various spices and herbs like dill, marjoram, caraway seeds, pepper, and parsley.
Popular desserts among the Poles are pastries and cakes. Some also prefer adding a vodka shot to their festive meals to assist in food digestion.
Other staple ingredients that won't miss in a typical polish food are mushrooms, cabbage, and potatoes. The wide variety of ingredients has made the traditional Polish dish very demanding to prepare. Most Poles are used to allowing themselves a considerable amount of time to prepare their dishes.
As such, a typical Polish food is hearty with lots of calories.
What to Eat in Poland?
The Poles boast of some of the most productive agricultural lands in Europe, with a high production of cereal grains which include buckwheat, wheat, barley, and rye.  These grains create Poles' everyday foods, such as noodles, dumplings, dark bread, among others.
Other essential products that are part of daily dishes include beets, potatoes, cabbage, mushrooms, cucumbers, and carrots. Boiled potatoes make a typical side dish enjoyed with fish, poultry, and meat. Dill and herb-seasoned cucumbers make the dill pickles raw ingredients, for which Poles are known worldwide.
Meat forms a crucial Polish diet ingredient, with pork as the most popular. Pork cutlets fried and breaded, served with a thick sauce, is the most common meat dish in Poland. The bigos, a meat stew popularly known as Poland's national dish, is also a favorite Polish delicacy.
Another popular Polish dish is the gołąbek (golabki in plural), rice, and ground meat rolled in cabbage leaves.  Smoked fish, particularly herring, is also popular among Poles.
It's a common tradition to start a meal with soup, and Poland boasts of a wide range of tasty soups. The soup can either be clear or viscous to the extent of becoming a meal. Borscht is one of the prominent soups enjoyed. Chłodnik is also a famous soup made from cucumbers, dill, and beets. It is somewhat the same as borscht and has a characteristic pink or red color.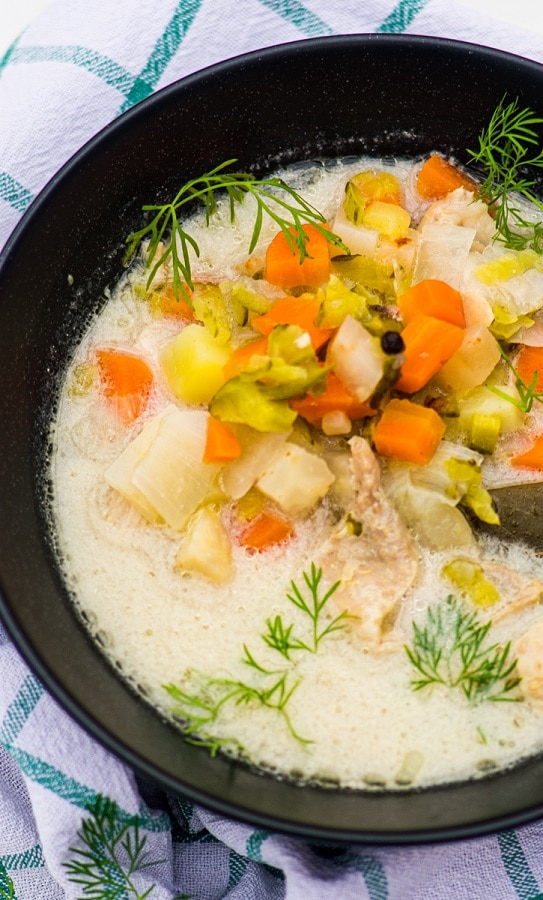 Others include żurek made from meat and sour rye flour and  Zupa grzybowa cooked using mushrooms.
Desserts are also a favorite in Poland, particularly cakes.  Some of the popular varieties include sponge cake, cheesecake, poppy seeds cake, and babka.
Poles pride themselves in their national drink, which is rye distilled vodka. Most meals are also accompanied by vodka, especially during special occasions.
What Polish Food to Try?
It's almost impossible to visit a foreign country without sampling some of its cuisines. And Poland boasts of sizzling hot and delicious dishes that holidaymakers will find irresistible. These are the most common traditional Polish foods that every visitor shouldn't leave Poland without trying.
Kotlet Schabowy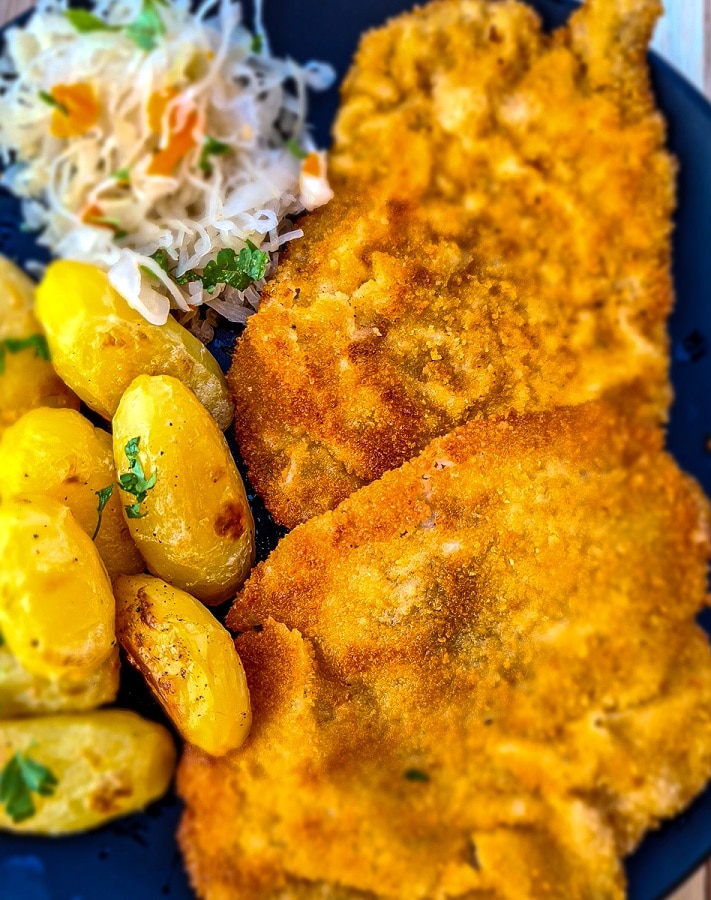 Kotlet schabowy is a pork cutlet breaded and fried to make a classic dinner dish served with sauerkraut and mashed potatoes. Most people often think that this Polish food has been around since the beginning of time. However, kotlet schabowy traces its origin in the 19th century but gained popularity after World War II. The delicacy shares similarities with the Austrian schnitzel.
Pierogi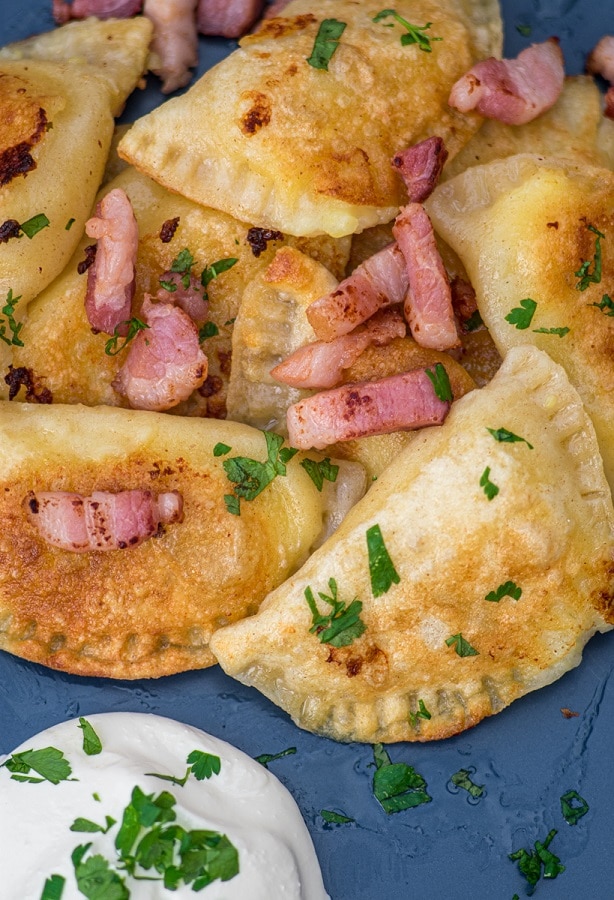 Pierogi is Poland's most iconic delicacy that virtually every Polish cuisine buff cannot miss to mention. It's not only famous in Poland, but other countries have also adopted it in different varieties. Pierogi are semi-circular dumplings containing different stuffings such as cheese and potatoes.
Some types use meat fillings instead, and common meat used include pork, chicken, beef, and veal.  Sophisticated pierogi versions use different meat fillings, such as duck, goose, or lamb meat.
Gołąbki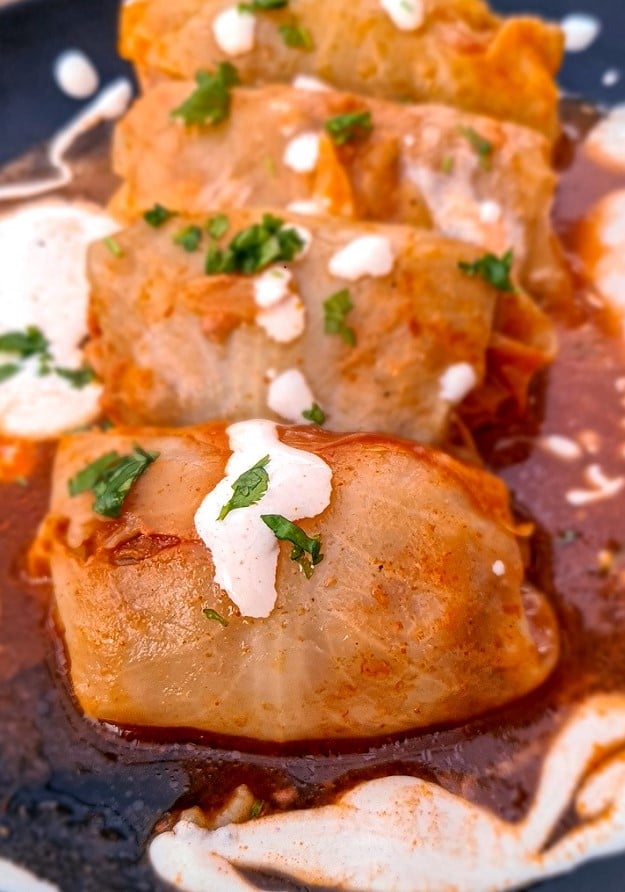 Golabki (singular golabek) is a traditional Polish food comprised of various fillings wrapped with cabbage leaves. The fillings include rice, minced pork, mushrooms, and onions. Some golabki varieties use different fillings, such as mutton and poultry, while some can be meatless. The cabbage rolls are then fried in oil or simmered depending on personal preference.
Golabek is a favorite Polish dish that is time-consuming. It requires lots of patience to come out correctly, and the best tasty are those taken on day two after preparation. Poles enjoy golabki with mushroom or tomato sauce.
Naleśniki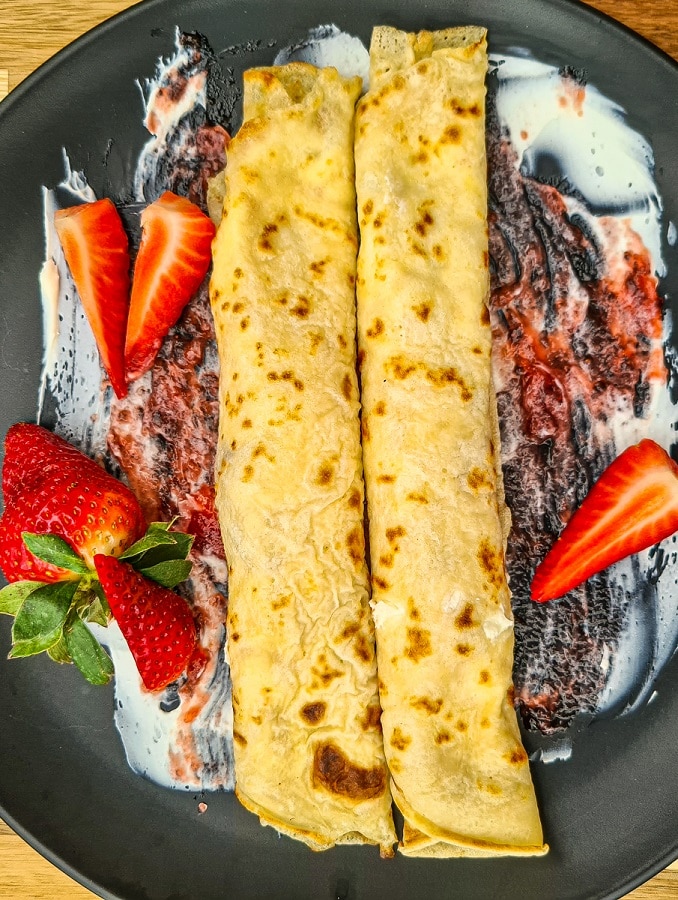 Polskie naleśniki are thin Polish pancakes enjoyed by many Poles as a favorite breakfast delicacy, often served with cheese or quark mixed with jam, fruits, and sugar. Polish pancakes are tastier with vegetables and meat.
Makowiec
Poles love cakes, and makowiec, poppy seed cakes are the ultimate cake in Poland. Poppy seeds in baking cakes seem to be a secret as most foreigners don't know that pastry baking can also use the seeds as ingredients.
Makowiec is usually enjoyed during the Christmas season but is common in pastry bakeries. Poppy seeds are often associated with affluence and very common in foreign restaurants serving Polish cuisines.
Rolada z kluskami śląskimi
Rolada z kluskami śląskimi, a beef roll filled with Silesian dumplings, is a famous Polish dish typical in the southern Poland region called Silesia, prominent for its mining activities and unique culture. The beef roll has grown in popularity across the country, with different areas having different variations.
In some places, the beef roll is stuffed with pickled cucumbers, bacon, and onions and served with a red cabbage salad.
Bigos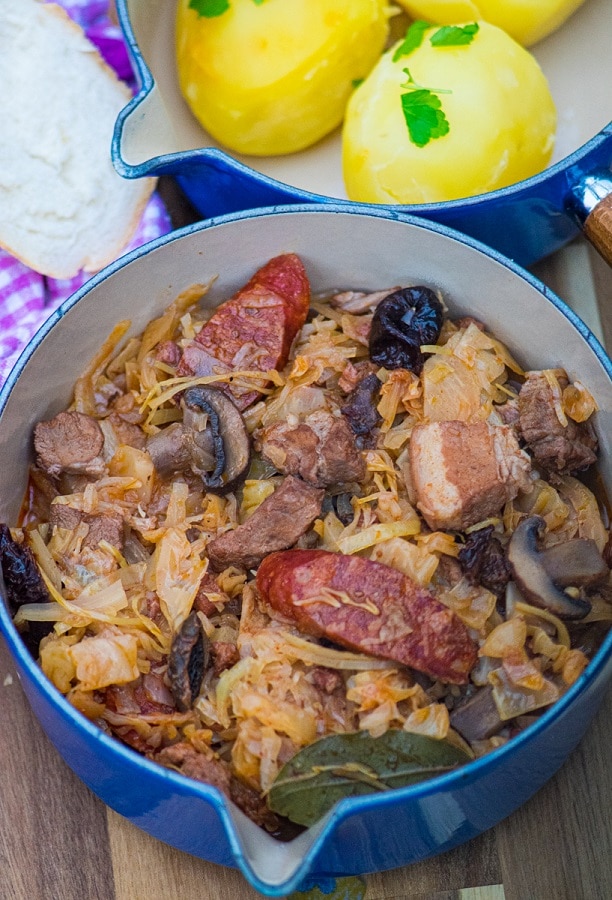 Most Polish recipe books never go without mentioning bigos, the hunter's stew. It's a favorite Polish dish enjoyed during special occasions during cold winter periods. Bigos uses several ingredients, including various types of baked meat and sauerkraut.
It requires a lot of time for preparation, and the longer the cooking time, the tastier it will be. Bigos cooks over a little hot flame for a prolonged time to bring out its satisfying taste. The taste is slightly sour, spicy, and meaty.
Żurek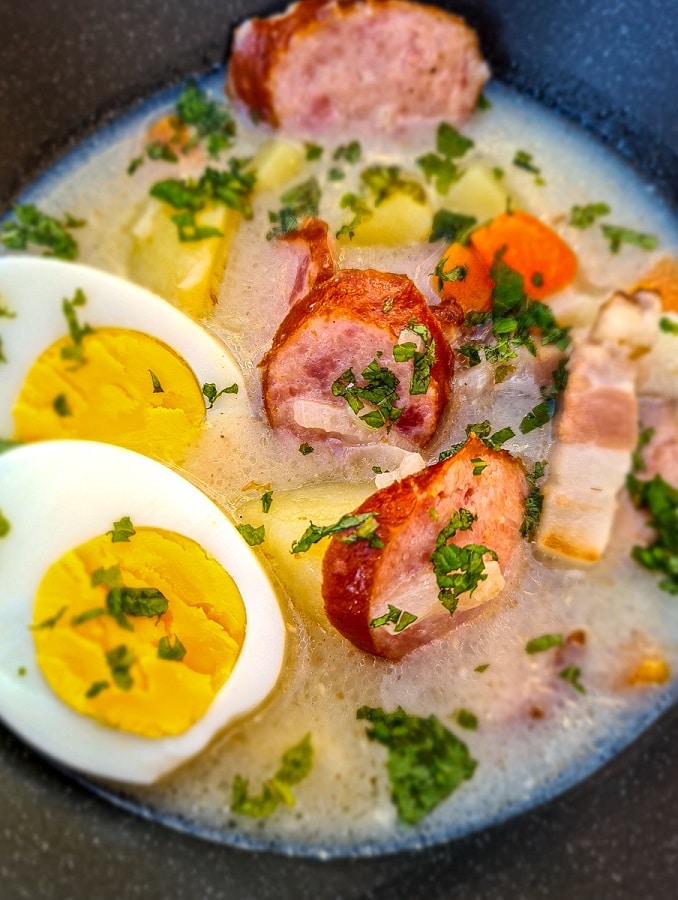 The list of foods to try in Poland can never be complete without Żurek, a famous sour rye soup. It's among the oldest and most delicious Polish soup made from various ingredients, depending on personal preferences. It has a characteristic acidic taste. It can also include sausages, meat, potatoes, mushrooms, boiled eggs, and garlic.
During Christmas festivities, meat is often not included in the recipe but replaced with horse-radish, mushrooms, eggs, and potatoes.
Poland prides itself on a wide variety of Polish recipes from its associations with other neighboring nations. It's almost impossible to look at every single Polish dish exhaustively.
There is a meal for virtually every single moment. Soups are
As already made evident, most Polish dishes require a lot of time and ingredients to prepare.  They need patience, time, and love to make them as delicious as the Poles themselves do.